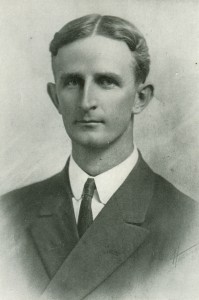 After the Arkansas General Assembly established four regional agricultural schools through Act 100 of 1909, the board of the First District school brought Victor Cicero Kays, a native of Illinois, to establish and direct the new enterprise in Jonesboro. The institution progressed significantly under Kays' leadership, offering a four-year academic program by 1930, and then achieving legislative recognition as Arkansas State College in 1933.
In 1936, Kays and his wife, the former Bertie Hale of Paragould, built a Tudor-style residence along Aggie Road, across from the Arkansas State campus. The architect was A. N. McAninch, who also designed Wilson Hall, the Teacher Training School (now Computer Science and Mathematics), and Student Commons Building (now College of Nursing and Health Professions).
Kays retired as president in January 1943 but was named president emeritus and stayed on as business manager. In addition, after his successor, Horace Thompson, resigned in 1945, Kays served as acting president for almost a year. He was awarded an honorary doctor of laws degree in 1956 for his contributions to the college's success in its early years.
Kays remained close to the university until his death on January 20, 1966, following a brief illness. After his wife's death in 1976, their son, V. H. (Bud) Kays, continued to reside in the house until his death in 2001. The university acquired the property shortly after Bud Kays' death and utilized it for a time as temporary housing for university administrators. It was slated to be torn down in 2012 as part of a university redevelopment project to provide sorority housing. The house was saved, however, and now sits amid the sorority housing complex.
The Architect
Arthur Neal McAninch (October 23, 1897 – March 9, 1965) was a Little Rock-based architect, practicing by 1929 with the architect J. R. Petter before taking over the firm in 1932. He later partnered with Bruce Anderson to form McAninch and Anderson. After this association ended in 1941, he joined another partnership, McAninch and Mahnker in 1945. This firm designed several buildings in Little Rock and around the state, including the Public Works Administration-constructed Eudora City Hall in Eudora, Arkansas (NR-listed Oct. 5, 2006) and the Collegiate Gothic-styled First Baptist Church in Little Rock (NR-listed Aug. 9, 1994). McAnich also designed the new administration building on the Arkansas State University campus, Wilson Hall, when the first Administration Building of the A&M College burned on January 12, 1931. The new building opened in 1932.
The House
The house retains much of its 1930s design, including its original windows, doors and tile roof. Designed in the Tudor Revival style, the house includes a brick first floor and a mixture of brick and wood and stucco half timbering on the second floor. Additionally a steeply pitched gable roof, covered in flat green clay tiles, and groups of multiple double-hung windows with multi-paned glazing are hallmark traits of the Tudor Revival style. Like many Tudor Revival houses of the period, the National Register nomination notes that the Kays House was not a strict copying of the Tudor style, but rather an interpretation that used Tudor elements.
V. C. Kays
Victor Cicero Kays was born in Magnolia, Illinois, on July 24, 1882 to John and Mary Alice Kays. He earned a bachelor's degree in 1902 from Northern Illinois State Teachers College and a second bachelor's degree in 1906 from the University of Illinois. In 1909, he completed bachelor's and master's degrees in agriculture at New Mexico A & M College.
He was directing an agricultural school in Wetumpka, Alabama, when recruited as founding principal of the First District School being established in Jonesboro, Arkansas. Kays was instrumental in supervising construction of the school's physical facilities on the site he helped choose, and he was known for being hands on, whether it was mixing concrete and laying brick for a new building, or dealing with student behavioral issues in the residence halls.
He was also innovative when it came to programming, including acquiring the first herd of Holstein dairy cattle in the state, which were used to teach students, as well as provide dairy products to the school's residents. Working with state and federal leaders, he was able to attract military and other training programs to campus to keep the school open during World War I and the Great Depression.
In 1918, the school began offering a two-year college-level program, and in 1925 it was renamed First District Agricultural and Mechanical College. The college obtained accreditation by the North Central Association of Colleges and Secondary Schools in 1928 and began offering a four-year degree in 1930.